Our Secret
We can't tell you everything about the secret to our Living water but we can tell you this: Living Water, which is the basis for everything Elementally Green, starts with bacteria. That's right, BACTERIA!
These bacteria come together to create our Living Water that makes miracles happen wherever it goes! ​Elementally Green's products contain these five main beneficial bacteria that we have identified in certified laboratory tests. These five explain how our products work. Each one of these have different properties that are beneficial to the environment and a nourishing effect on the soil.
​Our products continue to work long after applied as they are a PROCESS not just another additive, in fact it is a PROBIOTIC. The microbes continues to work even better with each application and watering. Water and rain keep the microbes activated.
Fertilizers if over applied can kill the soil's naturally occurring "good" bacteria and enzymes, even the plants. Since our products can be applied generously and as often as needed, you will see the surprising benefits. This product is a restorative to the soil and water with each application.
Our Story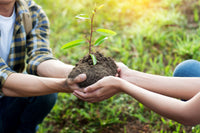 Testimonials
Just the other day I did a test on Elementally Greens Big Buds product and I couldn't believe how quick it was, truly the best product yet I've used so far! And this is much more than just a seed soak, full of enzymes and beneficial fungi and bacterias... unbelievable!!! Great product! Made in Texas! Check em out!

Jonathan G.
I started using this product and am VERY impressed, I saw results within just a couple days! I think this company is on to something big!

Joe D.
I used Drama Green on my pepper plants that were from the preceding year. Not only did they come back but they were larger and more prolific than the year before. They were also more disease and pest resistant then my newer plants. Using Drama Green on my tomato plants has also drastically increased the number of tomatoes my plants produce!

Gayle C.
A little more about our products
Material Safety Data Sheets